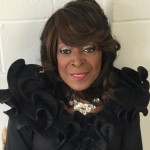 Reverend Catherine McCray-Manigault is a native of South Carolina, and currently resides in Foxborough, MA with her husband of 47 years, Bishop G.W. Manigault, II.
She is a loving wife, devoted mother to George Warren III (Julie), Shekinah Aleah, and adoring Grandmother to Josiah Warren, Adriannah Marie and Anjolique Mariella.  Aside from the Lord her family is the most important thing in her life.
In 1982 through the encouragement of her Pastor the late Bishop Dr. Joe L. Smith she accepted her call to the ministry at a time when it was not popular for woman to be preachers. Bishop Smith introduced her to the congregation and during her initial sermon she pose the question to them "What do you really know about Jesus"?  After numerous other powerful and thought provoking messages like her first, she was ordained to the office of Elder on January 14, 1990.  She credits a major part of her spiritual growth to Bishop Smith for taking her under his tutelage and preparing her for the challenges that she would face in the ministry. She often tells of how he would say to her "stick with me and I'll show you some things".  A man of his word he did just that.
When he noticed that she had a talent for administration and organization he began putting those talents to good use in the planning and implementation of different events at the church.  It was during this time she developed and honed these skills that would be a important asset for the next assignment God had for her.
On the first Sunday in October of 1994, Elder Manigault along with her husband, children and 8 members from the Holy Tabernacle's Dorchester congregation, co-founded the Holy Tabernacle Church of God In Christ Brockton.  They worshipped as a congregation for the first time at the Brockton Holiday Inn.
On October 4, 1999, Elder Manigault was elevated to the office of Co-Pastor.  On October 5, 2002 Co-Pastor Manigault was elevated once again to the office of Pastor by Bishop G. W. Manigault.  She currently serves as the Elder of Administration and Finances.  She is a woman who is able to wear many different hats, but still in all capacities serves the Lord with gladness.   Most people that know her will attest that her favorite quote is "When the praises go up, the blessings come down"!  She loves the Lord and is a worshipper in the true sense of the word.
Pastor Manigault gives all glory, honor and praises to Lord, because she knows that if had not been for the Lord on her side she would not be where she is today!  Her sermons are soul stirring and compelling.  `She preaches an unadulterated word coupled with her own personal experiences.  She readily testifies of God's goodness in her life. Her favorite saying is God has kept her 'thru danger seen and unseen' If she would sum up her life it would simply be put that "I am a testimony"!!!
Pastor Manigault holds a Master's Degree in Religious Education from Gordon Cornwell Theological Seminary, a Bachelor of Arts and a Master of Education from Easter Nazarene College.