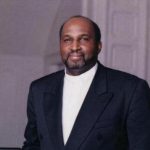 George Warren Manigault, II, was born on December 11, 1950 to George and Elizabeth Manigault, in Chelsea, MA.  He along with his three sisters, and three brothers were raised in Roxbury and Dorchester most of their lives with the exception of a brief stint in South Carolina, and California.  Because of his father's military background the family moved around a lot.  As a result, Warren learned to be very disciplined at an early age.
At the age of 17, through the preaching and teaching of the word through the late Pastor E. M.  Kelly,  Warren decided that he needed a change in his life and accepted the Lord as his personal savior at the Way of The Cross Holy Church in Dorchester, MA.
While serving at The Way of The Cross Church, Warren met the woman he would spend the rest of his life with (Catherine A.  McCray)!  On January 3 1970, he married the love of his life.  From this union came two children George Warren III (Julie), Shekinah Aleah, and three grandchildren Josiah Warren, and Adriannah Marie, and Angelique.  He is a devoted husband, father and grandfather, who tries to spend as much time as possible with his family.
In the winter of 1974 the now Deacon Manigault was led to move his family's church affiliation to The Holy Tabernacle Church of God In Christ Apostolic, Inc., under the leadership of the late Bishop Dr. Joe L. Smith.  Under Bishop Smith's leadership Warren's ministry was nurtured and as a result flourished and matured.  He was called to the ministry in 1980, and was later ordained to the office of Elder on January 19, 1982
After serving faithfully as Elder, Musician, and Teacher for about 20 years.  Elder Manigault was elevated to the office of Pastor in September of 1994 by the late Bishop Dr. Joe L. Smith.  On the first Sunday in October of 1994, Elder Manigault along with his wife, children and 8 members from the Holy Tabernacle's Dorchester congregation,  founded the Holy Tabernacle Church of God In Christ Brockton.  They worshipped as a congregation for the first time at the Brockton Holiday Inn.
After the passing of Bishop Smith, the Lord led Pastor Manigault to contact several former Holy Tabernacle ministers who were now pastors of their own churches.  Out of these discussions and meetings grew an agreement to form a new church fellowship.  This fellowship became known as Judah Ministries, International.  (JMI)  JMI was formed to "Empower believers thru Praise & Worship".  This ministry is designed to foster unity in the body of Christ and share ideas, and resources in service to God and mankind. There are currently six churches that make up the Judah Ministries, International family.
In July of 2002 Pastor Manigault was elevated to the office of Bishop in Judah Ministries, International.  He currently serves as the Presiding Prelate for this God ordained ministry.
Bishop Manigault loves the Lord and is zealous to bring the reverent and relevant message of the Gospel to all that will hear.  He strives to live out God's mandate to "go into all the earth to preach and teach, and make disciples."  He endeavors to serve God with a Spirit of Praise, a Unity of Purpose, and an Unselfish Love.
Bishop Manigault works to build a ministry that meets the needs of the "whole" man.  It is his firm goal to see that every resource of the church is used to minister in three key areas of life, Church, Family, and Community!