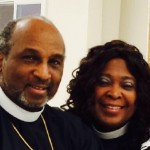 Elder G. Warren Manigault, II and Elder Cathy McCray-Manigault, founded the Holy Tabernacle Ministries, Inc. on September 1, 1994.
Holy Tabernacle Ministries operates The Holy Tabernacle Church of Brockton, Judah Ministries and a local youth ministry known as The Brockton Youth Center.
Prior to founding the ministry, they served as associate ministers at the Holy Tabernacle Church Of God In Christ, Dorchester MA.